May 19th, 2008
|
There are so many different types of PG Lite Alegrias that you're almost guaranteed to find one that works for you. Don't believe us, take the PG Lite Alegria Fashion Personality Quiz and we'll prove it.
Grab a piece of scrap paper so you can keep track of your answers, then click on the "What's My PG Lite Alegria Fashion Personality?" to find the meaning behind the letters you chose. Answer the 15 questions before you look at the personality types. Have fun! No peeking!
1. When you wake up in the morning you immediately…
A. open the curtains to let in the sunlight.
B. mentally review your itinerary.
C. plan the day's outfit while putting on your makeup.
D. set the table for breakfast.
E. check the mail.
F. hit the snooze button.
2. On weekends you'll most likely be found…
A. playing in the park.
B. grocery shopping or doing other errands.
C. at a trendy boutique stocking up on the latest fashions.
D. at a posh gala.
E. at the zoo.
F. at an art museum.
3. This particular weekend you're at a party. You're having fun because you…
A. love a good barbeque.
B. find networking at social functions to be really useful.
C. like to kick back, have a few drinks, and visit with your friends.
D. adore ballroom dancing.
E. feel energized meeting new people.
F. are the DJ and you love your job.
4. What do you do for recreation?
A. I like gardening.
B. I read or watch movies.
C. I love shopping.
D. I have a lot of fun decorating and entertaining.
E. I like to travel.
F. I listen to music, sometimes I go to concerts.
5. Nobody likes doing chores, but what's the chore you hate the least?
A. Weeding the garden – it's fun to play in the dirt.
B. Organizing the bookshelf, though I might end up doing more reading than organizing
C. Interviewing for a new housekeeper – exhausting, but worth it
D. Polishing the silver – I like to see my table settings shine
E. Packing for my next trip and making flight reservations
F. Repainting the house
6. You're eating at a 5 star restaurant with an incredibly eclectic menu, what do you order?
A. Apple pie ala mode – just like mother used to make
B. Skinless grilled chicken breast and a side salad – healthy is important
C. Red wine marinated flat iron steak – you only live once
D. The chef's special – I only order the best
E. Red curry – the spicier the better
F. Anything I haven't tried before
7. What's your ideal pet?
A. Playful puppy
B. Mellow adult cat
C. Sleek and docile ball python
D. Purebred show dog
E. Exotic scarlet macaw
F. Mischievous monkey
8. Let's get a little philosophical, which is most important?
A. Happiness
B. Truth
C. Love
D. Beauty
E. Adventure
F. Creativity
9. Life is like…
A. a box of chocolates.
B. a stage play.
C. a game.
D. an oyster.
E. a jungle safari.
F. a work of art.
10. If you were a flower which flower would you be?
A. Daisy
B. Iris
C. Rose
D. Calla Lily
E. Anthurium
F. Snapdragon
11. What's the purpose of fashion?
A. Playful fashion choices brighten my day and make people smile.
B. Basic fashion is a form of personal hygiene.
C. Bold fashion choices get me compliments and positive attention.
D. Ever heard the expression, "dress to impress."?
E. Fashion is about having fun and experimenting with new trends.
F. Fashion is fashion; my style is about personal expression.
12. Do you consider yourself trendy?
A. I like vintage clothing, do trends from the 40's and 50's count?
B. Not really, I prefer to wear classics that never go out of style.
C. I am so in the now it creates a time travel paradox.
D. If the trend works well with my personal style.
E. I've been known to get on the trend bandwagon a time or two.
F. Well, I certainly start enough trends.
13. Which adjective best fits you?
A. Up-beat
B. Practical
C. Sassy
D. Glamorous
E. Wild
F. Quirky
14. What's your favorite shape?
A. Flowers and hearts
B. Square
C. Circle
D. Pentagon
E. Triangle
F. Squiggly lines
15. What colors do you usually wear?
A. I like warm, happy colors.
B. I like black because it goes with everything; everything black.
C. I like bold and sassy colors.
D. I don't worry too much about color, but shiny is good.
E. I wear a lot of khaki; it goes well with my pith helmet.
F. Is rainbow a color?
What's My PG Lite Alegria Fashion Personality?
Mostly A's: Plaid Print


The first phrase that pops into people's minds when they think of you is "happy-go-lucky". Your personal style reflects your never-fail talent for looking on the bright side. You love being outdoors, and activities that allow you to connect with nature like gardening and running barefoot on the grass. If you aren't a parent or a teacher you should be. Children love you, probably because you have a childlike playfulness that never ages. Even though you make it a priority to always live in the present you are occasionally given to bouts of nostalgia because a part of you longs for a simpler time.
Mostly B's: Napa Leather


Down-to-earth, pragmatic, and full of energy; you're always on the go or starting a new project. You never feel like you have the time to keep up with the latest trends. That's why you keep your wardrobe stocked with classic styles and neutral colors, ensuring that you always look cool and sophisticated without ever having to consult a fashion magazine. Your style is low-maintenance and understated; the better to free up your energy for reading, pursuing hobbies, and making connections with like-minded people; that is, of course, if you ever have any free time.
Mostly C's: Patent Leather


You, shop-a-holic, you! But, who can blame you? Fashion moves at the speed of light and you're always moving with it. For you, spending a weekend wandering through your city's malls, outlet stores, and fashion boutiques is not only really fun, but absolutely necessary. Why do you do it? Three reasons: because you're worth it; because the compliments you receive from friends and passerby about your adorable, oh so chic outfits are like throwing fuel on the flame of your fashion passion; and because the fear of having to resort to wearing the same outfit twice in the same month drives you onward to bolder, and more daring fashion heights. Shop on girlfriend! Shop on!
Mostly D's: Metallic Leather


A glamour girl and a social butterfly, you hate anything ugly on principle. You have taken it upon yourself to make the world a more beautiful place and you take that responsibility seriously. Your highly evolved sense of aesthetics and the value you place on presentation is reflected in everything you do from your personal style, to the way you decorate your home, to how much care you take in setting the table for a meal or wrapping a birthday present. You are instinctively drawn to quality over quantity and never accept anything less than the best. You like to attend functions where you get to dress up and feel like a princess. You love shiny fabrics; you love the way they catch the light and the way they allow you to light up a room just by entering it.
Mostly E's: Animal Print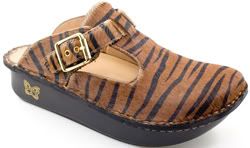 Always looking for adventure; Indiana Jones and Tomb Raider Laura Croft are your idols. You like to travel; you like to meet new people; and you like fashion trends that tap into your desire for the exotic and untamed. Your biggest fear: being bored or boring. When it comes to fashion trends you're not overly obsessed with what other people think, but you like to keep your personal style fresh and fun. When you feel like your wardrobe is starting to get stale, you are more than willing to try out a trend or two. You'd much rather experiment with something new and have it not workout than stay in the same old rut.
Mostly F's: Graffiti Print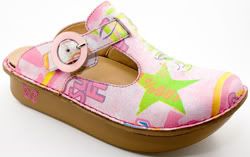 You march to the beat of your own drummer, but you would never use that expression because it's such a cliché. Artistic, imaginative, and fiercely independent; when it comes to your personal style your opinion is the only one you care about. You must give yourself pretty solid fashion advice because your good taste gets you a lot of attention and more than a few imitators. You like to stay flexible and keep a sense of humor about things, particularly the clothes you wear. If you don't like your outfit today, you can always try something new tomorrow.